Murder victim's family calls for Liberty police chief's resignation
Tuesday, September 18th, 2018
Article Details: https://vindyarchives.com/news/2018/sep/18/murder-victims-family-calls-liberty-police-chiefs-/
By SAMANTHA PHILLIPS
LIBERTY
Diane Pullin Speaks Out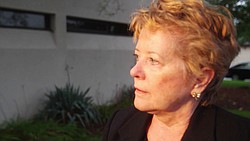 Video
Diane Pullin, sister of Liberty murder victim Loraine Lynn, shares her opinions concerning the handling of the case by Liberty Police after a Sept. 17, 2018 Liberty Twp trustees meeting.
Tearful accusations from a grieving family and assertions from supporters of the township's new interim police chief clashed during a packed trustees meeting Monday night.
Relatives and friends of the late Loraine Lynn called for the resignation of interim chief Toby Meloro after reports show he botched the initial investigation into Lynn's death.
Lynn was found face down in her mother's pond on Shannon Road on Aug. 2, 2017.
Her death was initially deemed an accident. Then last February, then Trumbull County Coroner Humphrey Germaniuk ruled the case a homicide after determining there was no water in Lynn's lungs and there was suspicious bruising on her neck, according to Lynn's sister, Diane Pullin.
Dr. Germaniuk later died.
Meloro was subsequently promoted from captain to interim police chief to replace Chief Richard Tisone, who retired in August, but the promotion has been surrounded by controversy because an internal investigation showed that he, as the lead investigator of Lynn's death, didn't collect or process key evidence.
Lynn's family drove from Pennsylvania and Florida Monday to attend the meeting.
"How can you sleep at night?" Loraine's daughter, Samantha Lynn of Pennsylvania asked Meloro during the meeting.
"This isn't about [Loraine], this is about your community," she said, raising her voice, accusing Meloro of leading her to believe the case was still being investigated for months even though police reports show the case was closed the day of Lynn's death.
Meloro, who has remained mum on the investigation, spoke up and said that wasn't true.
"I want to make it clear that I never closed the case. You don't have the right facts," he said. "We will do everything to make sure justice is served."
Atty. Devon Stanley, who is not Meloro's attorney but spoke on his behalf, said Meloro continued working on the case even though the report said it was closed. He added that Meloro is a great guy and does great work.
Lynn's sister-in-law Debbie Lynn also confronted the chief and criticized the trustees: "How can you promote Liberty as a place to live and work, when justice does not prevail, and there is a murderer on the loose?" she asked.
Pullin talked about the evidence that wasn't taken into account for the investigation, which The Vindicator has previously reported.
"There are residents who are afraid to speak up because they are worried of backlash from the police, who are loyal to each other and would not take well to their criticism of the job that was poorly handled," she said.
Pullin said she's worried that the family will never have justice because much of the evidence has been lost or destroyed.
Lisa Cocca, CEO of Belmont Pines Hospital, spoke in support of Meloro, saying she's known him for over 10 years because he was assigned to her facility.
"This man does an outstanding job for Liberty Township," she said.
Applause punctuated each remark, whether it was for or against the interim police chief.
Resident David Mirkin targeted the trustees.
"My problem with the whole thing is not with Toby or with this family, but with you people sitting right there," he said, pointing at the trustees. "You allowed this to happen. You knew Chief Tisone was retiring and had plenty of time to do the investigation."
Trustee Arnie Clebone, who has been an ardent supporter of Meloro, told the crowd Meloro will remain interim police chief, contending he has done tremendous work. Earlier, however, a resident warned Clebone that support will cost him re-election.
Liberty Detective Sgt. Ray Buhala and the Ohio Bureau of Criminal Investigation are now in charge of the Lynn investigation.